From Tibet
A private pre-amble before the public posts
Chinese lanterns flanking the main boulevard passing the Potala Palace. No other city is so clearly "Chinese".
I had applied the one-step-at-a-time approach that got me through a month of walking Shikoku in June of 2015 to a recent two-week tour in Tibet: just show up.
The contrast between 2015 and 2019 is stark. In the former, I had nothing better to do, but plenty of time to figure things out. For Tibet, I had everything else to worry about prior to the trip — down to the hour of my return flight from a 30-hour trip in Europe — but no time to actually process the trip itself. In the former, I had no home to return to, and this time I had an apartment to clean and keep from moulding while away. The other key factor, of course, was that Tibet was a tour.
I was invited by my parents to join this Qinghai-Tibet tour. Tibet as a highly restricted region for foreign nationals (we are required to have licensed tour guides accompany us along a pre-approved route), had an unappetisingly high in cost for a low return on local wandering. The tour was probably my best chance to see Tibet and what was happening to Tibet. Aside from marking the date I needed to arrive in Beijing, the sole preparation I had made was renting a Google-enabled travel pocket wifi from Hong Kong.
After finishing a month of long-haul flights and work, I made it to the finish line of the hotel in Beijing to wait for the rest of the (Cantonese-speaking) group to arrive from Canada. Once the group had arrived, we had dinner and were told to be at the lobby at 4am the next morning to catch our flight to Xining, Qinghai Province.
Over the next two weeks, we covered a lot of ground. Most of it had the rhythm of semi-permanence — like lunchtime worship at one of China's largest mosques in Xining, Tibetan Mastiffs posing for photos, numerous police checkpoints and military officers saluting passing trains in the middle of nowhere, many Tibetan temples stuffed with statues and offerings, and many more mountains, valleys, and stories. My trip was pricked by the specificity of one (Google, IG, Facebook-enabled) moment in time: the June 9th eruption of the Hong Kong Anti-Extradition Bill protest when we arrived in Xining. My constant 4G access — an incredible testament to the amounts invested in wireless infrastructure — unfolded the events in Hong Kong in parallel to the expansive Tibetan plateau over the next two weeks.
I despaired at the amount of food waste at every meal and mulled about the Chinese bubble we remained in (spoken and culinary). I watched the dynamics of Han privilege play out with the Tibetans we photographed, gave instructions to, and asked personal questions of. And I journaled with pens frequently belching ink at high altitudes. It was a remarkable experience, for how little I learned from Tibetans (despite learning a a textbook's worth about them), and how much more I learned about the specificity of the pre-90s Hong Kong emigre attitudes.
After Tibet, life fell back into a normal frantic (five days turnover before another long-haul flight out of Hong Kong), and I am again behind in my updates. In lieu of that I will send this closed group some of the observations I am looking forward to exploring, some of which may be axed in public posts.
The State in Qinghai Province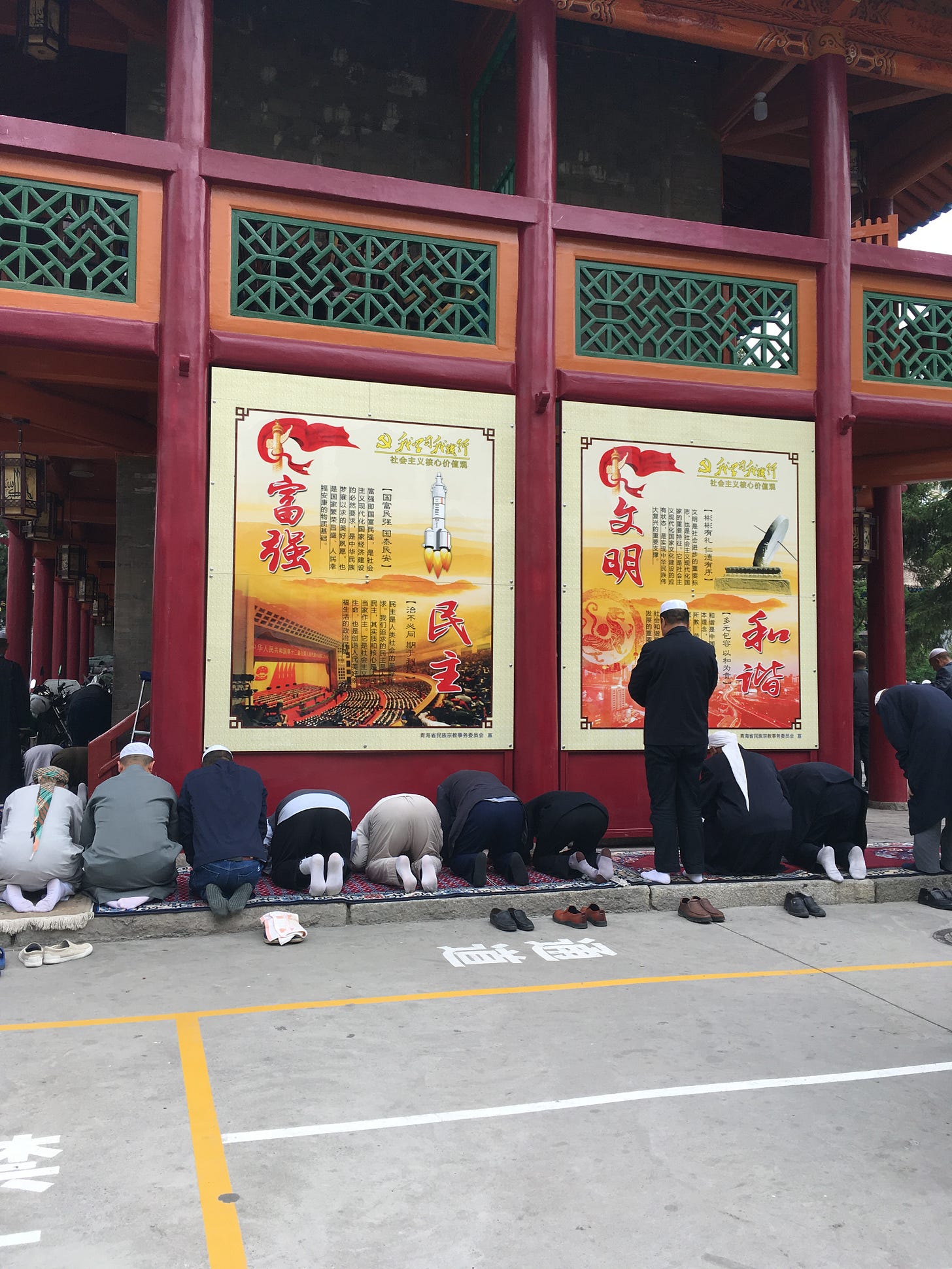 It takes a certain type of grit to focus on worshipping when you are facing Chinese propaganda posters inside your mosque. But Muslims who make it to prayer put up with the presence of both the Chinese government and Han tourists snapping photos. What seems like openness to Han visitors seems suspiciously like the invisible Chinese government hand, as most mosques I've been to don't allow public access during prayer time. If there are mosques (not understate pressure) that allow the public in during prayer time, please let me know.
Reading the Land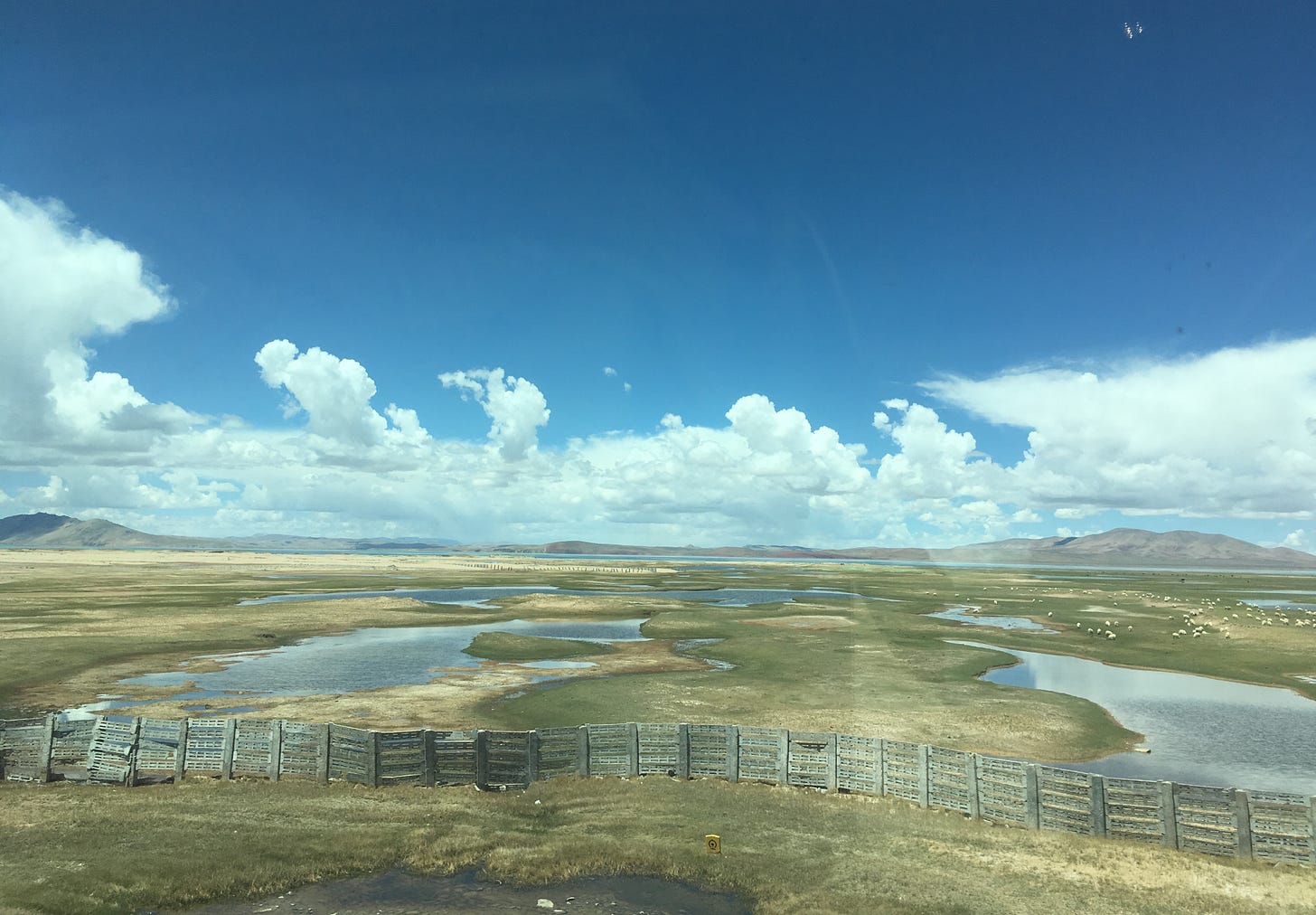 This was a morning view from the overnight train from Xining to Lhasa along the Qinghai-Tibet route, where a breakfast discussion over Hong Kong broke down before it even began.
A pass before entering the Mt. Qomolangma National Nature Reserve, one of the several that are 5000 metres above sea level. I ended up spending most of my trip reading the landscape from the bus. The arid and sparse expanse revealed more than the Tibetans living on them, whom I didn't have much access to beyond our local guides and staff at hotels and restaurants.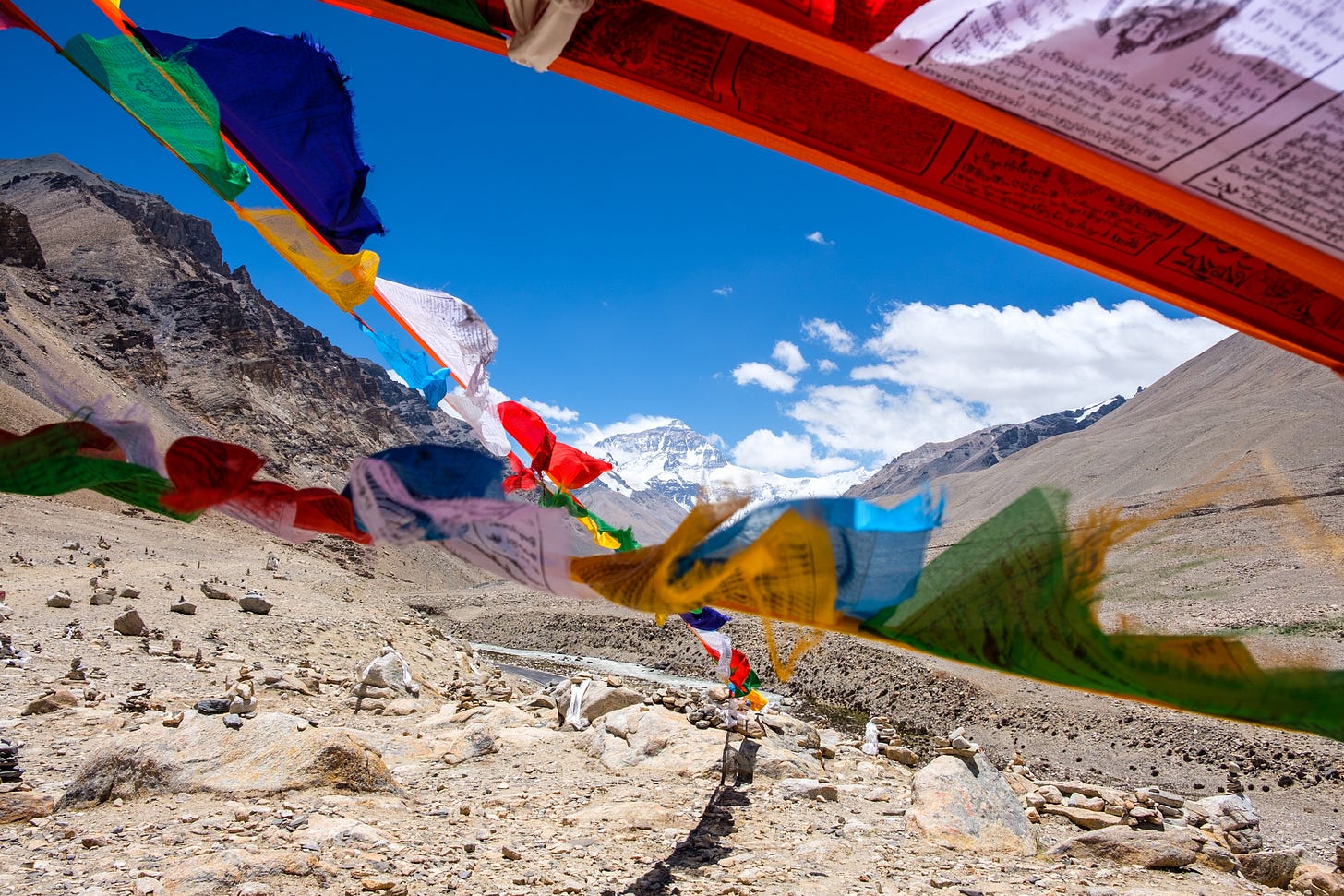 With the incessant winds at high altitudes, I was the only one who ventured to this prayer flag collection facing Mt. Qomulangma (Mt Everest). Most of the places we visited, with the exception of the Potala Palace, had only a handful of tourists, if any.
Tibetan Buddhism, Monasteries, and Cultural Production
The expansive Drepung Monastary in Lhasa, which was once capped at 7700 monks and is estimated to have once housed 10,000. Now, it has barely 500. It also had the most declarative toilet for anyone with olfactory receptors (I have a photo keepsake).
We saw most of the major monasteries in Lhasa and lower Tibet, where photographing indoors is usually not allowed. I cannot say I enjoyed looking at the countless gold leafed statues of deities and Buddhas — the incredible number lining, and in some cases filling, every room produces a mixture of overwhelmed numbness and claustrophobia. Nonetheless, I was endlessly fascinated by the pantheon and artistic styling and our guides were quite thorough with explanations. Through its art and iconography, the Tibetan blend of Nepalese/Indian and Chinese inspiration ends up quite familiar.
The Invisible Hand and Han Privilege
A friend of mine had recently returned from another autonomous region, Xinjiang, and our conversations about that trip informed what I looked out for in Tibet. When one's energy is not spent staying warm, fed, well rested, and maybe going somewhere, it needs to be expended elsewhere. From the coach bus, all of mine went to looking out the window and taking photos without smashing my lense against the window frame. Most of the fun was recording what the tour guides did not mention (all of the geology) or explicitly mentioned not to photograph (police and military). With all the exercise, I slept fitfully every night.
The final police check point before arriving at the Mount Qomulangma 珠穆朗瑪峰 basecamp, more frequently known as the Everest basecamp on the China side.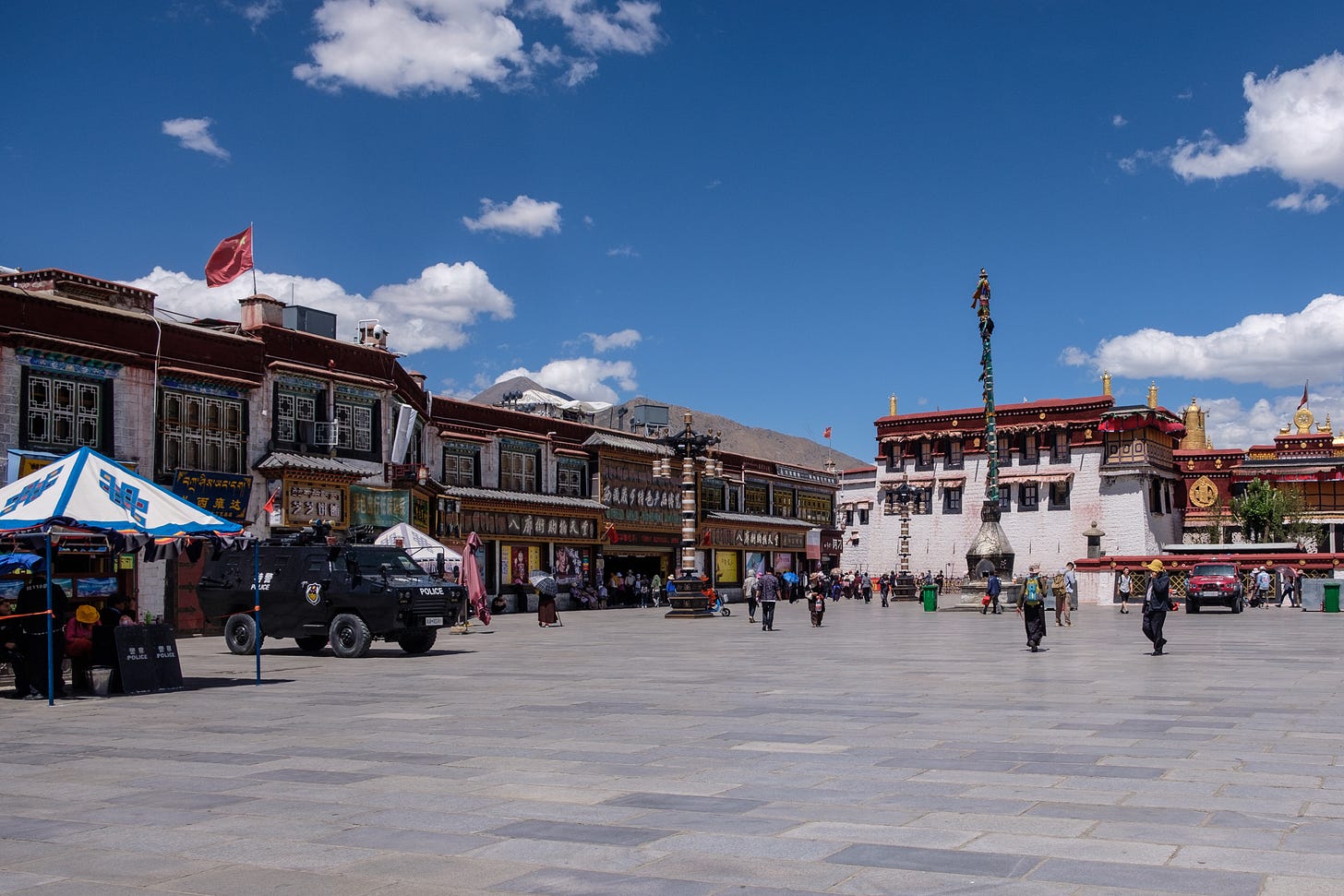 Jokhang Temple, which is one of the holiest sites for Tibetan Buddhists, had a major fire in 2018, a protest during a 2008 press tour, and a major riot by monks in 1988.
After trying to write about a few things that nagged at me the whole trip, I have begun the more straight forward task of writing a daily diary. I have more to say than I'd have liked, so I am going to wait for time to prune the excess words.
---
Due to a perpetually bouncy bus, my travel books were at the bottom of my backpack. To make up, I listened to podcasts for two weeks. Also watched a lot of movies.
Recommendations:
Thanks for reading!
- Athena