Instead of killing my blog...
going down the book direction
The Qinghai to Tibet region circa 1990s — discovered in the family archives.
Some of you may know that I keep a 'travel blog', for want of a better term. The Cup and the Road is where I dump the lists and information that I collect, and Google — colossal and pedantic rubbish collector that it is — sucks them up to sort for the netizens of the world. The Cup and the Road's only qualification to 'travel' is that the lists are for places where English isn't much used.
An advocate for decolonising travel wrote:
I claim travel writing because it's like cheating. I get to write about everything. Travel is a vehicle for which to explore the condition of living, how our relationships to place shape us and our experiences, how our identities and political histories inform place, how power structures inform how we migrate (or don't) and how that affects the places we pass through.
Travel is a haphazard way marker for thinking about peoples and places. The way we use it is even more dubious, from 'begpackers', to AirBnB remote workers who displace locals from the 'authentic' neighbourhoods they want to parachute into, to age-old tour caravans. People like me from English-speaking, wealthy countries capitalize on narrating the stories of the peoples we choose to notice in the places our passports grant us access to.
Travel is also the byproduct of curiosity, one of humanity's greatest virtues. Curiosity can be delicious, memorable, silencing. Curiosity is a condition I live with. It takes me down all sorts of random directions that are not familiar. Movement from place to place is a convenient way to do that.
The Cup and the Road began as an unemployment project in 2015, where I struggled for eight hours a day to summarize one day of walking on Shikoku, which was a byproduct of curiosity about how one survives walking not quite knowing where one will sleep that night. This blog began as a writing exercise. From the practice, I realised I liked translating what locals are proud of for others. Japan's tourism industry and local businesses have no shortage of information (think maps and brochures), but pitiful levels of digital literacy. If one of my posts explaining how to buy subway tickets in Tokyo can free up their mental energy from figuring out transit to engaging with locals, it seems worthwhile.
I have wondered whether to just drop The Cup and the Road simply because I don't know where to take it as a 'travel blog'. It has traffic from people who are expecting to travel — what would I want to say to them if I had the chance?
If I take a step back, the question is: what have I been saying to people who ask me about travel? Whether it's shoestring backpacking, India, or cross-country cycling, I think my message hasn't changed much: a little fear is a promising direction.
I've come to accept that many people never learn how to manage their fear (save for avoiding it) and travel only within their world view no matter how far they fly. For many people, travelling is too costly a luxury. But curiosity is a choice; so is the courage to explore; and so is empathy for different people. So I have decided to devote more time to an economical way to travel as a means of connecting with people: books.
In recent years, I have gone places I had never known about, like Baltistan along the Pakistan-China border though I have been on both sides of the Himalayas, and live in a Buddhist Zen temple that I would only ever enter as a visitor. The people who write them and the people who are written into them have taught me about communities like the Indian Malaysians whom I have never met despite having numerous Chinese friends from the same country.
3 Book Recommendations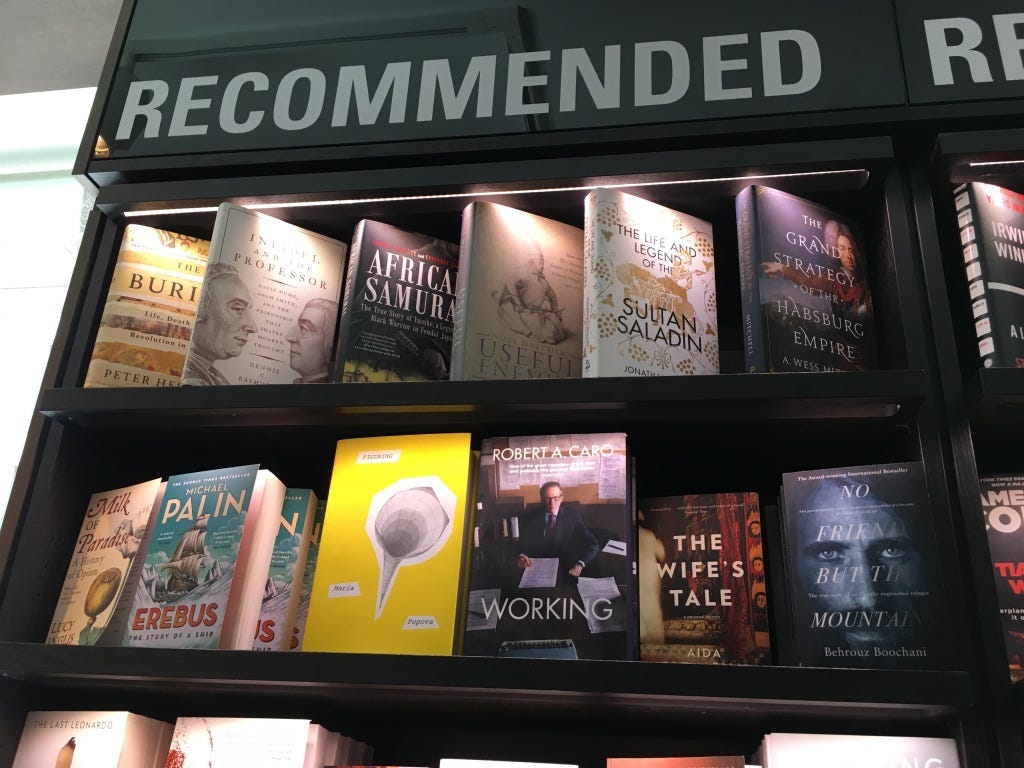 A great way to spend half a Saturday in Berlin: Dussmann das KulturKaufhaus
Taking The Cup and the Road in this direction puts a focus on what interests me most: perspectives, elsewhere in the world.
Whether found standing on a familiar street corner, on the far side of another ocean, or in the book in my bag, these perspectives continually shape how I move about the world I share with nearly 8 billion people. I'd like to share more of them. My first post in this direction is "14 Japanese Female Writers" because I began to actively address the gender skew in my reading for Japan.
In addition to writing about them, I am choosing one city every 3 months to send 3 books to. For this first round, these three books are on their way to Hong Kong:
If you recognise the names Ten, May, and Monique, you can ask to borrow them as a good way to start a conversation.
Our Women on the Ground: Essays by Arab Women Reporting from the Arab World by Zahra Hankir (Editor), Christiane Amanpour (Foreword), is a singular collection of voices of Arab female reporters covering North Africa and the Middle East for the past 3 decades. The book Brave, Not Perfect is by the CEO and founder of the NGO Girls Who Code) (you can listen to her online talk. And The Moment of Lift looks a the big picture, where large-scale impact is possible.
Happy reading and connecting!
Athena